New Publication: History of Ethiopian Pentecostalism
Information about a new study on the history of Ethiopian Pentecostalism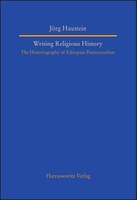 Jörg Haustein: Writing Religious History. The Historiography of Ethiopian Pentecostalism. Wiesbaden: Harrassowitz, 2011 (Studies in the History of Christianity in the Non-Western World; 17)

The growth and spread of Pentecostal and Charismatic Christianity is one of the more salient features of Ethiopia's recent religious history. However, this process has hardly been addressed by academic studies in the past.
Based on original field work and archival research, Jörg Haustein presents the first detailed history of Ethiopian Pentecostalism, from the first Pentecostal mission efforts and the beginnings of an indigenous movement in Imperial Ethiopia to the political constraints of the Derg time and the spread of the movement into the mainline Protestant churches. Moreover, the study seeks to explore how the fictional, political and ideological aspects of its historical sources may be positively employed in order to analyze the genesis and proliferation of religious identities. In dialog with post-structuralist theories of historiography, Haustein thereby develops a basic approach to religious history which centrally accomodates the discursive nature of historical knowledge.
Writing Religious History was awarded with the Ruprecht-Karls-Preis of the University of Heidelberg (2011) and the John Templeton Award for Theological Promise (2011).
Publication Details
XVI, 295 pages, pb
ISBN 978-3-447-06528-3
€ 38,–
Order Information
Contributed by:
last modified
2011-12-10 21:54