Book Announcement: Pandita Ramabai and the Mukti Revival
Yan Suarsana: Pandita Ramabai und die Erfindung der Pfingstbewegung. Postkoloniale Religionsgeschichtsschreibung am Beispiel des "Mukti Revival". Wiesbaden: Harrassowitz 2013. 412 pp., ISBN 978-3447100694; 88,00 EUR.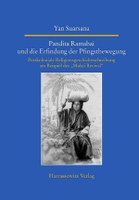 Pandita Ramabai Sarasvati (1858 – 1922), women's rights activist and social reformer, is often regarded as one the most important women of modern India. Praised as 'Goddess of Wisdom' by her contemporaries, however, her popularity came to an abrupt ending with her conversion to Christianity and the association with radical branches of the Holiness Movement. As a consequence, she spent the last two decades of her life in relative isolation from her Indian context within the walls of her 'Mukti Mission' near Poona which she had founded at the turn of the century.
This book deals with an incident during the last period of Ramabai's lifetime that would become a culminating point for various discourses of religion, colonialism and politics: the so-called 'Mukti Revival' in 1905. This spiritual awakening amongst the mission's subaltern inhabitants has been declared as an event of God's saving intervention in a non-christian context by modern Pentecostal historians, whereas alternative interpretations contradicting western concepts of history and religion have been driven out of historical memory ever since. Based on postcolonial and poststructural theory, the book traces (in the form of a detailed analysis of both the historical sources and the historiographic discourse) the 'career' of the different competing narratives and the genesis of knowledge concerning the 'Mukti Revival' – making transparent the process of 'inventing' religious and historical reality in a colonial context.
(Language: German, 412 pages, hardcover, ISBN 978-3447100694, 88,00 EUR)
Contributed by:
last modified
2014-01-20 14:00